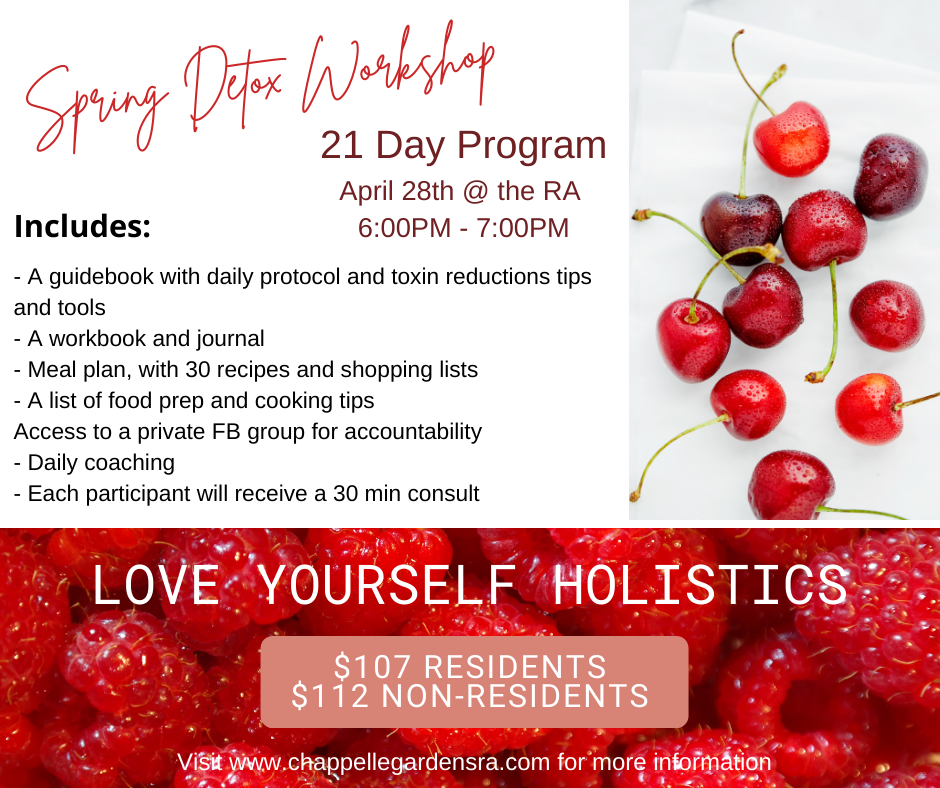 Spring Detox Workshop
Location
Chappelle Gardens Social
1059 Chappelle Blvd SW
 This is a workshop first and participants will be given the program to follow with online group starting on may 1st.
Join Certified Holistic Nutritional Consultant, and Founder of Love Yourself Holistics for an informative workshop and 21 Day Program.
At the workshop, come to discover:
What to expect over the 21 days, gut health and how detoxing is essential to our overall wellbeing and how we can do it with food and not "expensive supplements". Attendees with learn how to lower inflammation and help release weight, assisting in "weight loss", and decreasing the effects of chronic ailments. Attendees will also discover products and tools to assist them in the process.
If you are struggling with your health and wellness, this is the workshop that will help jumpstart you in the right direction. By discovering how the science behind nutrition effects your day to day life and how you can use the information to put symptoms of chronic ailments into remission through a holistic approach
There will be time to ask questions and find out how to tailor the program for their needs.
After the workshop, participants will receive their materials and be added to a private online group via FB for accountability and daily coaching opportunity. As well book their private one on one 30 min consultation.